Introduction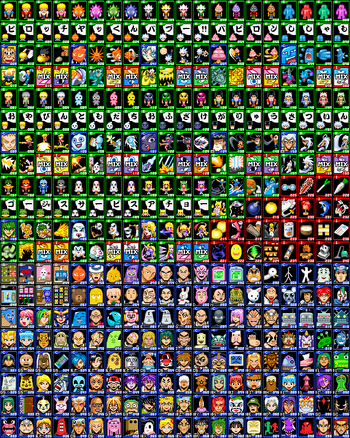 List of Card Sets
Set 1
Set Image
No.
Name
Conditions
001
Bo-bobo Normal Color
002
Bo-bobo EX Color 1
003
Bo-bobo EX Color 2
004
Bo-bobo EX Color 3
005
Bo-bobo SP Voice 1
006
Bo-bobo SP Voice 2
007
Bo-bobo SP Voice 3
008
Bo-bobo SP Voice 4
009
Bobobo-bo Bo-bobo
010
Cluck
011
Burning Hand Hellfire
012
Bo-bobo Wave
(ボーボボ波)
013
Blazing Male Romance
(熱炎漢浪漫)
014
Bo-bobo Union
(ボーボボ合体)
015
Holy Nosehair Babylon Whirlwind
(聖鼻毛バビロン 大旋風)
016
Ink Torpedo Nosehair
(水墨魚雷鼻毛)
Set 2
Set Image
No.
Name
Conditions
Don Patch Normal Color
Don Patch EX Color 1
Don Patch EX Color 2
Don Patch EX Color 3
Don Patch SP Voice 1
Don Patch SP Voice 2
Don Patch SP Voice 3
Don Patch SP Voice 4
Don Patch
Thousand Needles
Cheapskate Blues
Hell Spike Roller
General Patchderella
God of Destruction Zarubios
Key Shuriken
Big Eight Ball
Set 3
Set Image
No.
Name
Conditions
Heppokomaru Normal Color
Heppokomaru EX Color 1
Heppokomaru EX Color 2
Heppokomaru EX Color 3
Heppokomaru SP Voice 1
Heppokomaru SP Voice 2
Heppokomaru SP Voice 3
Heppokomaru SP Voice 4
Heppokomaru
January
May
October Disorder
December
November
Amoeba Fart Space
Bone Fart Extract Injection
Set 4
Set Image
No.
Name
Conditions
Softon Normal Color
Softon EX Color 1
Softon EX Color 2
Softon EX Color 3
Softon SP Voice 1
Softon SP Voice 2
Softon SP Voice 3
Softon SP Voice 4
Softon
Thunder of Luxembourg
Stream of Morocco
Jamaica's Passion
Judgment of Babylon
Black Sun Babylon
Babiden God
Golden Phoenix
Set 5
Set Image
No.
Name
Conditions
Tennosuke Normal Color
Tennosuke EX Color 1
Tennosuke EX Color 2
Tennosuke EX Color 3
Tennosuke SP Voice 1
Tennosuke SP Voice 2
Tennosuke SP Voice 3
Tennosuke SP Voice 4
Tokoro Tennosuke
Tokoroten Gun
Tokoroten Rolling Attack
Life-Shackling Kill (命枷殺)
"Nu"'s Judgement
Orochi Fist
Toko Lock
Fly High!
Set 6
Set Image
No.
Name
Conditions
Hatenko Normal Color
Hatenko EX Color 1
Hatenko EX Color 2
Hatenko EX Color 3
Hatenko SP Voice 1
Hatenko SP Voice 2
Hatenko SP Voice 3
Hatenko SP Voice 4
Hatenko
Lock Thunder
Auto Lock
LOCK Surfing
LOCK
Eternal Lock
Key Serve
Super Spinning Nosehair Lock
Set 7
Set Image
No.
Name
Conditions
Dengakuman Normal Color
Dengakuman EX Color 1
Dengakuman EX Color 2
Dengakuman EX Color 3
Dengakuman SP Voice 1
Dengakuman SP Voice 2
Dengakuman SP Voice 3
Dengakuman SP Voice 4
Dengakuman
Giant Dengaku
Dengaku Machine Gun
Phantom Super Dengaku Attack
Dengaku Cannon
Z-Block March
Dengaku Watermark Rose
All Humanity Dengaku
Set 8
Set Image
No.
Name
Conditions
Torpedo Girl Normal Color
Torpedo Girl EX Color 1
Torpedo Girl EX Color 2
Torpedo Girl EX Color 3
Torpedo Girl SP Voice 1
Torpedo Girl SP Voice 2
Torpedo Girl SP Voice 3
Torpedo Girl SP Voice 4
Torpedo Girl
Torpedo Whirlwind Leg
Torpedo Collapse
Life Color Gyora
No Joking Around!! (おふざけ禁止!!)
Falling Torpedo 2004
Fart Lightning
Napoleon Sword
Set 9
Set Image
No.
Name
Conditions
Gunkan Normal Color
Gunkan EX Color 1
Gunkan EX Color 2
Gunkan EX Color 3
Gunkan SP Voice 1
Gunkan SP Voice 2
Gunkan SP Voice 3
Gunkan SP Voice 4
Gunkan
Mermaid Lagoon
Self-Taught Nosehair Snake Fist
Law of the West
Regent Bazooka
Armageddon
Self-Taught Blood Killer Nosehair Revolution
Western Scissors
Set 10
Set Image
No.
Name
Conditions
OVER Normal Color
OVER EX Color 1
OVER EX Color 2
OVER EX Color 3
OVER SP Voice 1
OVER SP Voice 2
OVER SP Voice 3
OVER SP Voice 4
OVER
Guarana
Pomelo
Pomegranate
Guava
Cabos
Scoundrel-Sealing Coins (极悪封货)
Slashing Blood Service
Set 11
Set Image
No.
Name
Conditions
Halekulani Normal Color
Halekulani EX Color 1
Halekulani EX Color 2
Halekulani EX Color 3
Halekulani SP Voice 1
Halekulani SP Voice 2
Halekulani SP Voice 3
Halekulani SP Voice 4
Halekulani
Coin Knight
Money March
Golden Phoenix
Scary Money-Maker (戦慄の メイクマネー)
100,000,000 Dollar Finale
Large Gold Coin Judgment (大判ぬ判)
Cheapskate Gorgeous
Set 12
Set Image
No.
Name
Conditions
Serviceman Normal Color
Serviceman EX Color 1
Serviceman EX Color 2
Serviceman EX Color 3
Serviceman SP Voice 1
Serviceman SP Voice 2
Serviceman SP Voice 3
Serviceman SP Voice 4
Serviceman
Sky Service
Rolling Service
Floral Breeze
Direct Service
Service Wild Dance
Hell's 20-ton Service
Peep Show Poison Hand Fist (チラリズム毒手拳)
Set 13
Set Image
No.
Name
Conditions
Denbo Normal Color
Denbo EX Color 1
Denbo EX Color 2
Denbo EX Color 3
Denbo SP Voice 1
Denbo SP Voice 2
Denbo SP Voice 3
Denbo SP Voice 4
Denbo
Poison Hand Fist
Bright Entertainment (明るくふるまうの)
Denbo's Rampage Blow Combo (田ボの暴れ はっちゃけコンボ)
Holy Radical Ceremony
Midsummer's Magical Song
Strawberry Legend Waitress
Legendary Regent President (伝説裏威善闘総長)
Set 14
Set Image
No.
Name
Conditions
Hell Nosehair Drop
Entire Universe Nosehair Trial
Love Hunter Y
Tokoroten Promotion Movement
Fashion Denbo Show
Space's Truth
"Trap Fire! "
"Fish Citrus" (「うおおボンタン」)
"Fish Citrus Citrus" (「うおおボンタンボンタン」0
"Mouth Vacuum"
"I won't let you have your way" (「そうはさせるか」)
"Teleport"
"Black Flame Teleportation"
"Nice thing you got there, gimme" (「それいいな くれよ」)
"360 Degree Cyclone"
"Majide!!?"
Set 15
Set Image
No.
Name
Conditions
Fenifalco's Glasses
Fenifalco's Blade
Don Patch Sword
Radish Blade
Tanaka Sword
Wig
Dolphin Suit
Chaos of Oden
Vanta
Grated Yam
Hajikelist's Badge
Medium-Level Certificate of Complete Mastery
(中型免許皆伝の証)
Certificate of Complete Mastery
(免許皆伝の証)
Stardust Mos Fire
Panda Suit
Custom FF
Set 16
Set Image
No.
Name
Conditions
BoBomberman
Drive Away Evil Spirits
Dengaku Flag Raising
Quiz Kegari de Pon
THE ISAO
Kibahage Duel
Prukogi
Death Money Slot
Nu Presentation Game
Beauty
BoboPatch
Bobopatchnosuke
Patchbobo
Tenbobo
Bobobo-bo Bo-bobo Double Twin Mark II Second
Fake Bo-bobo
Set 17
Set Image
No.
Name
Conditions
Fake Don Patch
Underboss
Kopatch
King Nosehair
Bear
Pickle
Game Boy Pig
Hair Hunter
Tenjiro
Telu
Piranha
Kegal
Ferris Wheel
Ukikki
6
Hagechatsu Teruno
Set 18
Set Image
No.
Name
Conditions
Katsu
Tsulun
Geha the Gale
Gechappi
Tesuikatsu
Shop Manager
Usa-chan the Rabbit
Kitemasu
E-Block Leader
F-Block Leader
Hagen
Pikari
Tarashi
Maitel
J-Block Leader?
Puppetman
Set 19
Set Image
No.
Name
Conditions
Gurin
Guran
Killalino
Takashi
Kodebun
MAX Kyokawa
Cerberus
Pon Taro
Z-Block Citizen
Hibi
Kibahage
Shoumei
Radio Man
1st Class Chefs
Hisashi-kun
Hiroshi
Set 20
Set Image
No.
Name
Conditions
Thread Man
Paper Man
The Teacup
Captain Ishida
Chuunosuke
Rokka
Rice
Forgiveness Mask
Robo #1
Robo #2
Robo #3
Robo #4
Butan
Kabeo
Ochazuke Alien
Dollman
Set 21
Set Image
No.
Name
Conditions
Gunkan's Special Forces
Fundoshitaro
Tough-Looking Guy
Gum
June 7th
Death Mask
Suzu
Sparkman
Lamune
Chokochokotto
Purupu
The Hunted Rabbit
Ochoboguchi-kun
Gump
Ruby
Guy Behind Pig Door
Set 22
Set Image
No.
Name
Conditions
Infinite Kicker
Kouga Civilization
Mesopotamian Civilization
Indus Civilization
Alien
Kanemaru
Nightmare
Galubel the Fresh-Blooded
T-500
Beep
Megafan
Haoh
Wan Ronga
Pana
Super Rabbit
Despair-kun
Set 23
Set Image
No.
Name
Conditions
Sonic
Carman
Shibito
J
Giga
Gorgon
Nihiru
Rocco
Jubei
Shaina
Rububa
Kancho-kun
Model
Swimsuit Gal
Yagyu
Romantic You (Goemon)
Set 24
Set Image
No.
Name
Conditions
Hagaiou
Star Saber
Three Thousand Years
Raparapa
Chisuisui the Fastest
Swimsuit Girl
Guy Bo
Chikuwan
Rose-Lily Kikunojo
Ujikin TOKIO
Combat Blues
Rem
Jeda the Wind God
Lambada
Hanpen
Danjo Kenkei
Set 25
Set Image
No.
Name
Conditions
Yo☆Shabu Taro
Floral Inoue
Super Lady Killer (Nice Guy)
Miaasadaharu
Hisae
Roberto
Earth
Kick the MAME Uncle
Dark Yasha
Sambaman
L
JeiL
Mako-chan
Octopuscal
Tsuru Tsurulina IV
Tsuru Tsurulina III
Trivia
References
Community content is available under
CC-BY-SA
unless otherwise noted.