Introduction
Accessories
Yakkun
(ヤッくん):
"Nu" Handkerchief
(ぬのハンカチ, Nu No Hankachi): Tokoro Tennosuke's "Lucky" Handkerchief. This Handkerchief is used mainly for wiping jelly tears and as a blocking mechanism, although Jelly does tend to try and ask more from it. Such as the battle with Sonic where he asks for the handkerchief to become a magic fling carpet and fly him out of danger; to no luck.

Hajikelist Necklace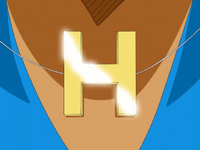 This necklace originally belonged to Rice. After being defeated, he gives to Bo-bobo as proof of becoming King of Hajikelists.
Tokoroten Promotion Goods
Super Jacket
A rare jacket that Bo-bobo earns as proof of his mastery, after training in a supermarket in Eternal. In is said that anyone who wears it will gain mystical powers. In the midst of the with Rose-Lily Kikunojo, Bo-bobo has trouble in executing his new super moves, as well as his regular ones. Once Bo-bobo was determined to save his friends, the true power of the jacket was activated and his was granted with power of love and all 5,634 supermarkets in Japan. Bo-bobo wears this jacket throughout the rest of series until the end of the Hair Kingdom arc.

Weapons
Don Patch Sword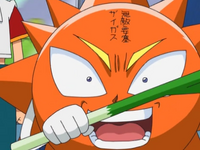 (ドンパッチソード, Don Pacchi Sōdo): A green onion that Don Patch occasionally uses as a sword in battle. Don Patch first uses this weapon during his battle with Gechappi. It is also known as the Don Patch Hammer, which seems to be more effective against opponents than the Don Patch Sword. The Don Patch Sword is also the signature weapon of Bobopatch.
The weapon is similar to Farfetch'd's leek from Pokemon.
Demon Sword Radish Blade
(魔剣大根ブレード, Maken Daikon Burēdo), also known as the Magic Blade of the Radish in the English dub: A radish that Tokoro Tennosuke occasionally uses as a sword in battle. According to Heppokomaru, it is a mythical sword that was once wielded long ago by a legendary swordsman named Garius. After some time, the radish blade became a demon blade, and was sealed inside the demon world by the Carrot Sword.
Hatenko's Key
Tanaka Sword
Nunchucks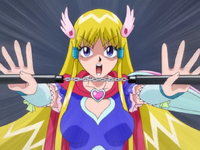 Machines and Vehicles
P365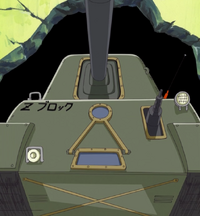 Also known as Tanks-a-Lot in the English dub:
"Nu" Car
(ぬの車):
"Nu" Boat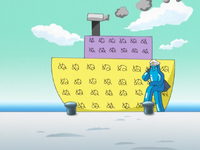 Softon's Boat
Softon's Car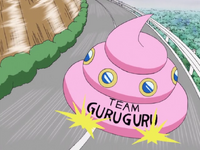 Insect Repellent Robo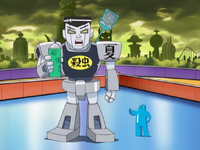 (虫よけロボ, Mushiyoke robo):
I'll Do It Robo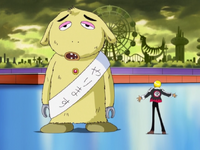 (やりますロボ, Yarimasu robo):
Other
Hair Ball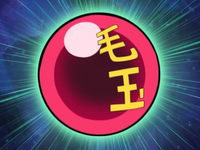 (毛玉, Kedama):
Hairloss Beam Antidote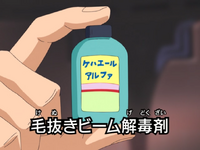 (毛抜きビーム解毒剤, Kenuki Bīmu Kaidokuzai), also known as "Hair-Gro Alpha" (ケハエールアルファ, Kehaēru Arufa): An antidote in the form of a small bottle that is needed to undo the effects of Gechappi's Hairloss Beam technique. And Beauty and Don Patch are both hit by Gechappi's Hairloss Beam, the rebels travel to C-Block's Aitsuhage Tower to obtain the antidote. Once the rebels reach the Jet Black Room, they encounter Softon, who despite being part of Hair Hunters simply gives the antidote to Beauty, stating that they both have the same smell (much to her dismay).
Zenmetsu-gan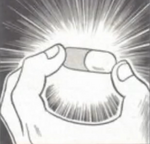 (全滅丸, Zenmetsu-gan):
Trivia
References
Community content is available under
CC-BY-SA
unless otherwise noted.